"CUTTING A BABY'S FINGERNAILS IS EASY," SAID NO PARENT EVER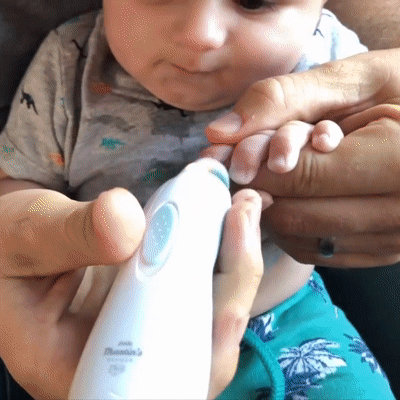 DO YOU FEAR CUTTING YOUR CHILDS NAILS?
We created Premium Baby Nail Trimmer for those parents like myself who struggle with a squirmy child. 
Our nail trimmer is specifically designed to safely and quickly trim and polish little toe and fingernails for both babies as well as adults. It is super soft and will not damage cuticles or nail beds.
No need for nail clippers, no need to fear cutting a babies little finger with nail clippers. Safe and easy trimmers for newborn nails or adults
From today you won't need a magnifying glass to safely trim your baby's nails. 
Diyos Kids™ Baby Nail Trimmer is specifically designed to safely and quickly trim and polish little toe and fingernails for both babies as well as adults. It is super soft, easy to use and will not damage cuticles or nail beds!
The Baby Trimmer comes with four cushioned pads, each designed for a different stage of your baby's growth.
⭐⭐⭐⭐⭐ - "This is a game changer, I wish I would have known about it with my first child!" - Sandra
BENEFITS:
☑️ EASY TO USE - One button operation
Just move the central button up or down to select the working modes (fast & low speed, clockwise & anticlockwise rotating).
☑️ CARE AND SAFE  - Suitable for Newborn for age 0 months +, Safer baby nail file won't damage cuticles or soft nail beds, that are the easiest and safest way to keep your baby's nails trimmed!
☑️ VERSATILE TOOL - The set comes with 6 nail pads suitable for babies of different ages (0-3 months, 4-11 months, 12+ months) as well as adult-use.

☑️ ELECTRIC NAIL FILE - soft LED front light and whisper-quiet motor and 2 pieces AA batteries (Not included) operated, you can trim your baby's nails very convenient without waking them up when they are sleeping

☑️ ADJUSTABLE SETTINGS - The baby file nail comes with 6 cushioned sandpapers in precise grit Levels, including 3 cushioned safe sandpapers for babies and children, as well as 3 attachments for adults

☑️ COMPACT DESIGN - One-button operation features Portable and lightweight when you travel or outdoor, you and your baby will have a full healthcare in this baby nail clippers
Features:
Safe: This nail trimmer won't damage cuticles or soft nail beds, so you can safely and quickly trim and polish little toenails and fingernails.
Quiet: Boasting an LED front light and whisper-quiet motor, you can trim their nails while they're sleeping without them ever knowing.
LED Light: Help you safely trim your baby's nails.
Multipurpose Tool: Use it for you or your baby. Achieve perfect cuts every time.
Multiple Settings: control speed (high/low) and rotation (clockwise/reverse) to enhance nail trimming positions for softer & smoother nails.
Lightweight, Compact Design: made with a one-button design and powered by 2 AA batteries, this is the perfect parent's or baby's gift for home or travel use.
Specifications:
Material: ABS
Power Supply: 2 x AA Batteries (Not Included)
Features: Electric, 6 in 1, Low Noise, Clipper Tool
Length: 13cm/5.12", Width: 4cm/1.57" (Approx.)
OUR GUARANTEE
We truly believe that we carry some of the most innovative products at the best prices, and we want you to share our belief, that's why all our products are backing out products with a RISK-FREE ironclad 30-Day Money back guarantee.
If you don't have a positive experience for ANY reason, we will do WHATEVER it takes to make sure you are 100% satisfied with your purchase.
Our customer service works 24/7 contact us anytime if you need assistance.
The first time I used a nail cutter i ended up cutting my babys skin, i cried along with my baby, never again did i touch my baby nails again with cutter. I had never heard of this product than i youtube it, this was a life saver for me😁 i trim my babys nail every week now. Very good for 1st time mothers like me. Super delicate on nails.Great product. highly recommended.
Great Nail Trimmer for Baby! A registry must!
My 2 month old baby girl smiled throughout her "manicure" with this nail file - no tears! Much easier than clipping her nails. There are different files and speeds so you can choose what's right for your child. It is easy to use and change the files on and off. This is a must have for new moms! Will be recommending this to all my friends and family for their children.
Learn how to cut in a few seconds…
My wife used to be scared cutting our newborn baby's nail using nail clippers but when she searched on how to cut newborn's nails she saw one of these and asked me to order , we used to put mittens all the time coz she gets scratches on her face because her nails are sharp. After she got used to using this nail file she now stopped putting mittens on our 3 month old baby. She found out that when you're filing a nail you should switch the direction of the spin in the opposite direction when you get to about the middle of the nail so that the sand paper does not fight the spinning motion and it will go smoothly.
When using this nail file, cut from outermost part of the nail then slowly go to the center of the nail then slide the switch to spin in the opposite direction and this will cut very smooth.
Amazing!
So I decided to purchase this nail trimmer because I was tired of my baby's little talons clawing at my breasts during breastfeeding and fed up with not being able to get the nails trimmed via an emory board as our pediatrician suggested. Have you tried rapidly filing a little baby's 10 fingers while they're sleeping? NOT an easy task at all.
I threw in the towel and ordered this product. The next time my baby snoozed I was able to trim down her nails within a matter of 3 minutes! It was so easy and didn't wake her at all. They have different nail rounds for the different stages of your baby's life, so I used the pink round which is super fine. Now my baby's nails are filed down and she can't claw herself which she seems to do when she's in milk heaven, resulting in little scratch marks on her beautiful face. I was very pleased with the quality of this trimmer given it's price. Get it today if you're tired of your baby clawing at you with their little talons!
Good quality product. Arrived on time. Product works very well. Seller recommended!