Easylift™ Can Lift

150 Kgs/330 lbs

Easily Without Much Effort!
A one person set up! With our new Easylift™ handheld tool, lifting heavy furniture is a snap—even if you're by yourself.
Easylift™ handheld tool is a great help for anyone who works with kitchens, windows, doors, cabinets, wall boards, ventilation, decks, floors, fences and so much more. It's built to last and can get in to those small tiny places and start lifting or between the wall and the last floor board and start pushing.
Now You don't Need 2 People When You Can Do the Job on Your Own.
The perfect handheld jack for holding, supporting, squeezing and adjusting a wide variety of items. Not only well-suited for the installation of doors, windows, and cabinets but also flooring and the construction of porches, decks, and frameworks. All this and much more can easily be done with controlled precision thanks to the unique construction.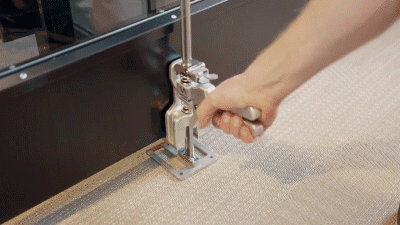 Features
Innovative universal tool

Lift, press, tighten with precision and control

Impressive capacity for a compact hand tool

Patented technical solutions

May substitute multiple "traditional" tools

Inspires creativity, secures quality and safety

Increases productivity, saves time and money

Sturdy and durable construction

Components of highest quality


Product Details:
Hardened stainless steel/aluminum

Capacity: up to 120 kg / 330 lb

Operation range (mm): 5-115

Standard base (mm): 5 x 105 x 87

Optional base (mm): 3 x 77 x 62

Mounting holes for safe operations

Weight: 0.45KG


The Easylift™ Labor Saving Arm Lifting Tool locks securely into place and lifts just as easily.


-------
OUR GUARANTEE
We truly believe that we carry some of the most innovative products at the best prices, and we want you to share our belief, that's why all our products are backing out products with a RISK-FREE ironclad 30-Day Money back guarantee.
If you don't have a positive experience for ANY reason, we will do WHATEVER it takes to make sure you are 100% satisfied with your purchase.
Our customer service works 24/7 contact us anytime if you need assistance.
Easylift™ Labor Saving Arm Lifting Tool
They are sturdy easy to use.Great product.
Easylift™ Labor Saving Arm Lifting Tool
Wanted to move a very heavy king size bed to decorate, didn't want to pay thirty pound to get it moved, had the Orange movers from a previous job, couldn't lift the bed by myself, looking for a furniture jack, purchased this one didn't think it would do the job but it did a GREAT job. I found it easy to use, lifted the bed with no problem whatsoever. Very happy lady.
Easylift™ Labor Saving Arm Lifting Tool
Researched many types of lifting tools before selecting these. They work very well excellent value , highly recommended, very simple to use , fully set as stated in there instructions.
Easylift™ Labor Saving Arm Lifting Tool
This gadget makes it a pleasure to lift furniture - really. A brilliant device. The handle raises one side or corner of the furniture quite easily
Easylift™ Labor Saving Arm Lifting Tool
GREAT item. I wanted to perform a deep cleaning on my kitchen floors and this handy tool help me lift my kitchen refrigerator and cabinets so easily. I actually did it on my own. Couldn't quite imagine when it arrived that this tool would be able to seamless lift such heavy items.