HOURS OF Fun & Excitement From A Phone Case!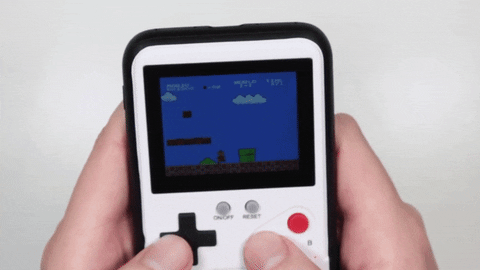 Tired of walking around with the same BORING phone cases as everyone else?
We have the PERFECT solution for you.
Our Gamer Phone Case is a UNIQUE & brand new design that everyone is going crazy for.
At first glance it looks like a STYLISH & aesthetic ordinary phone case.
But if you look closely it's a gamers PARADISE consisting of 36 OLD school classic games.
This is a not just an ORDINARY phone case it's a QUIRKY games console attached to the back of your phone.
IMPRESS all your friends & standout with our UNIQUE phone case?
Tired of scrolling through Tiktok or instagram? Grab yours today! Click Add To Cart!
Features
Display: Full color display for a more immersive experience
Compatibility: iPhone & Samsung
Package Includes: 1X Gamer Phone Case + USB Charging Cable
It actually works
I was surprised to find out that it's a fully functional gaming device. My son won't put the thing down he loves it. It's jam packed with loads of cool retro games. I'm actually considering buying one for myself.
Cute
I absolutely love mine...It got that aesthetic vibe to it and is actually fully functional too! Will be buying more in future.
la calidad de la máquina es muy cutre