50% OFF + FREE Shipping Today!
Have you ever wished you had studded tires for your feet? 

Featuring innovative Universal Non-Slip Gripper Spikes, that allows you to walk or run on snow or ice/frost without the worry of slipping.
These Universal Non-Slip Gripper Spikes offers unparalleled snow and ice traction for when you need it most. The spiked cleat is lined with metal spikes that bite into ice/frost and snow with ease. 
The Universal Non-Slip Gripper Spikes provides full foot slip protection, Easy to pull on or take off, securely fitting both shoes and boots, protecting you from any slips and falls when it's wet, ice or snow.


Perfect for Walking, Running, Hiking and other outdoor activities on the ice, snow or grass.
Benefits of Wearing Universal Non-Slip Gripper Spikes
HELPS AVOID ACCIDENTS: Reduce the risk of falls and injury by wearing these grips. Whether you're shoveling the driveway, ice fishing, walking to get the mail, carrying an armful of groceries, catching a coffee on your break, these non-slip grippers is equipped with full foot slip protection. Keep these grips on in your car as your drive and get a better grip on your gas pedal when ice builds up.
PROVIDES EXCELLENT GRIP: Greatly help to avoid those treacherous slippery conditions. High quality rustproof spikes under the ball and heel of your foot provide excellent grip on slick surfaces which makes it easier to walk on slippery ice or snow ground. 

UNIVERSAL & UNISEX: These grippers are stretchable. Suitable for men and women of any age, including teenagers, adults, and the elderly. Used for angled terrain, icy roads, icy driveways, muddy and wet grass, dangerous trails, etc. Can be worn under any shoe type.
SECURE FIT WITH ERGONOMICS DESIGN: Ergonomic design with Stay on toe cap ensures a snug fit of most types of footwear and helps to prevent the ice cleats from falling off or moving around while in use. Its secured fit ensures extra stability and safety for the user by securely staying in position on your shoes and boots.
LIGHTWEIGHT & PORTABLE: Small, compact and folds down to fit into any purse, pocketbook, bag, briefcase, or glove compartment of a car or truck. Keep them in your automobile for emergencies, short walks and helping others push their cars out of the icy snow.

DURABLE: Designed to endure heavy use throughout the cold winter months with durable reinforced joints and surfaces made with a special rubber compound which stays strong and retains elasticity in frigid cold temperatures.

EASY TO USE: You can easily slip-on around footwear in seconds. Simply place the toe cap of the traction aids over the front of your shoe/boot, and then pull the heel of the grippers over the back of your shoe/boot.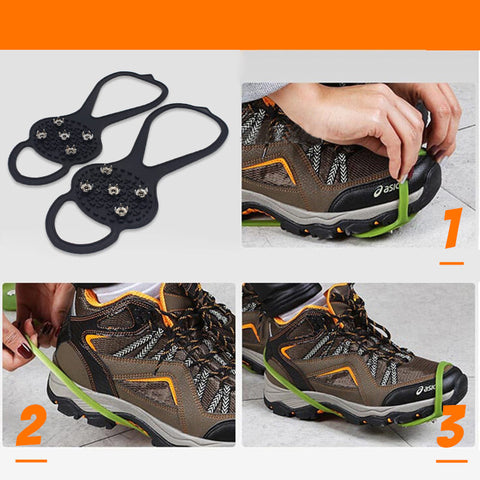 Don't Let Winter Stop You! Enjoy

Running or Walking in the Snow or Ice

Without Any Worry.
Product Details:
Material: PET + Steel

Stud Count: 8 Steel Studs on each
One Size Fits All
 --------
OUR GUARANTEE
We truly believe that we carry some of the most innovative products at the best prices, and we want you to share our belief, that's why all our products are backing out products with a RISK-FREE ironclad 30-Day Money back guarantee.
If you don't have a positive experience for ANY reason, we will do WHATEVER it takes to make sure you are 100% satisfied with your purchase.
Our customer service works 24/7 contact us anytime if you need assistance.
Universal Non-Slip Gripper Spikes [50% OFF Today]
I ordered to receive those for me and my child Nebraska's weather hit freezing rain on city so I concerned because there was icy somewhere for slippery that where I took my dog for bathroom so I decided to wear ice cleats so amazing to walk safe no slippery It was easy to off ice cleats that fit my boots This is worth to recommend!
Universal Non-Slip Gripper Spikes [50% OFF Today]
Totally keeps you from falling outside. Can even go running without fear of falling!
Universal Non-Slip Gripper Spikes [50% OFF Today]
I needed something light to help keep traction on a trail up & across a glacier on a 4 day backpack I did last summer. These performed wonderfully. Some of my fellow hikers were jealous. My pair of microspikes together weighed less than one of theirs & I had great traction. They went on and off my hiking boots easily and stayed put once on.
Universal Non-Slip Gripper Spikes [50% OFF Today]