Most of our pets 
don't like bathing or are afraid to get hurt.

 As a defense mechanism, they try to fight back which leads to injury and some scratches.
This Pet Bathing and Grooming Wash Bag helps to avoid being scratched by pets and allows us to do our care work easily.




It will help your cat to bathe easily at home without spending extra money. Let cat feels very comfortable and relaxed.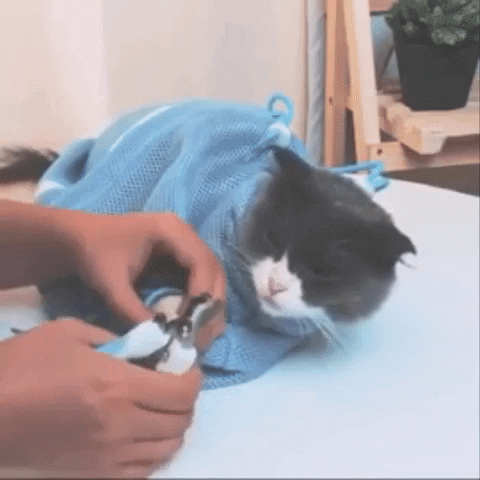 😻 Benefits of cat bathing: Senior veterinarians have shown that bathing your cat properly can reduce the chance of skin diseases.

😻 Zipper design: The wide opening makes it easy for your cat to get in and out, so you don't have to worry about your cat not being able to fit in. It also allows your cat to release one paw at a time, making it easy to clean paws and cut nails.




😻Benefits of using bathing bags: Effectively prevent some diseases, so that your cat can live a long and healthy life and can stay with us a little longer.


 SIZE : ONE (FITS ALL CATS)
I am very satisfied beautiful color soft and nice material very practical to bathe my cat I am happy with my purchase
Worked for me and my kitty. All the best to you. I also did her nails and brushed her teeth in this 😹
This item is great I wish I had it years ago. It makes cutting their nails easy to cut. The bath is next.
Yesss. It worked. Thank heavens. Lol. I was nervous about bathing my cats. They all needed flea baths but I was scared to bathe them. Ordered this. Was unsure. But saved my arms from not getting tore up. They were definitely nervous in it. But ended up just laying there and letting me soakbthem in the sink. Love it!!!
I had trouble getting my cat to bathe but now that I have the net, I'm able to wash her up in all the spots and come out smelling good and looking clean, this is the best item if your cat doesn't like water at all nor bathe ‼️